Visit Jaipur
Sanganer (12 km)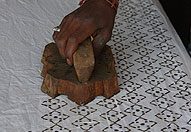 located on the Tonk road, In addition to its ruined palaces, Sanganer has exquisitely carved Jain temples. The town is entered through the ruins of two Tripolias (Triple Gateways) The town is an important centre for crafts industry and produces some of the finest hand printed textiles from units of block and screen printers. This textile is popular all over country and abroad.
Bagru (35 Km)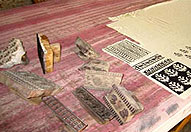 On the Ajmer Road, the ground level fort is still in good shape. It is noted for its hand printed handloom are less complicated and are in earthly hues.
Samode (45 km)
The Nathawats of Samode played an important role in the durbar of Jaipur where they served as prime ministers. Their Thikana, which located in a charming village, is surrounded by fertile fields, while a ring of sharp hills was the seat for their fortifications. Awarded by one of the Kachhawa rulers of Amber to one of his twelve sons four-and-a-half century ago, the palace became known for the high quality of its frescos, and particularly in the use of indigo colours, and the richly painted Durbar Hall. The palace has been converted into a heritage hotel and is ideal for an outing.
Ramgarh Lake (32 km)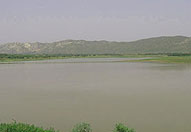 A huge artificial lake created by constructing a high bund amidst tree covered hills. While the temple of Jamwa Mata and the ruins of the old fort are some of its antiquities, its beautiful landscape, especially during monsoons, makes it an idyllic picnic spot.
Bairath (86 Km)
An important historical place with the excavated remains of a circular Buddhist temple-unique in Rajasthan and the earliest known temple in India. Bairath also has relics of the Mauryan, Mughal and Rajput periods. A mint constructed by Akbar, a beautiful Mughal garden and a remarkable monument with painted Chhatris and walls built by Jahangir are other attractions.
JaisinghpuraKhor (12 km)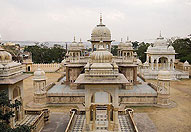 the settlement of the Meena tribe, it has a formidable fort, a Jain temple and a step-well amid lush surroundings.
Madhogarh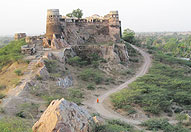 Tunga (40 km)- Tunga was witness to a historic battle fought between the Jaipur forces and Marathas. The fort is nestled amidst beautiful mango orchards. The Present owner, Thakur Bhawani Singh, the fourth generation directed descendent of Thakur Pratap Singhji, has now renovated the Madhogarh Fort and converted into a family run heritage hotel. Guests can now experience the famous Rajput hospitality and relive the glory of a bygone age.